Two Public Star Gazes in December
Continue to check this home page as weather could change the venue or postpone and possibly cancel a star gaze. Check again after 4:00 p.m. on the afternoon of the observing session for the latest info and update.
Friday – Dec. 1, 6:45 a.m. update:

Disappointingly, unrelenting overcast skies with a chance of rain have caused the cancellation of this weekend's star gaze at Grassland Mountain Observatory.
1 Dec.. 2023 — Friday night — This public star gaze will be held at Grassland Mountain Observatory in Madison County, with a weather backup night of Saturday, 2 December. This event is free and open to everyone — registration is not necessary to attend. A temporary gate code, required for entry, will be provided here on the day of the star gaze by 4:00 p.m. Directions to Grassland Mountain Observatory can be found here. These star gazes normally conclude about 3 hours after sunset, and visitors are not permitted to stay past the conclusion time. Sunset occurs at 5:17 p.m.
8 Dec. 2023 — Friday night — The location for this star gaze will be Lookout Observatory on the UNC Asheville campus, with a weather backup date of Saturday, 9 December. While the event is free and open to everyone, pre-registration is required to attend. To learn more about how to register, please visit the UNCA Lookout Observatory website here. Sunset occurs at 5:16 p.m., with shuttle service beginning about 6:00 p.m.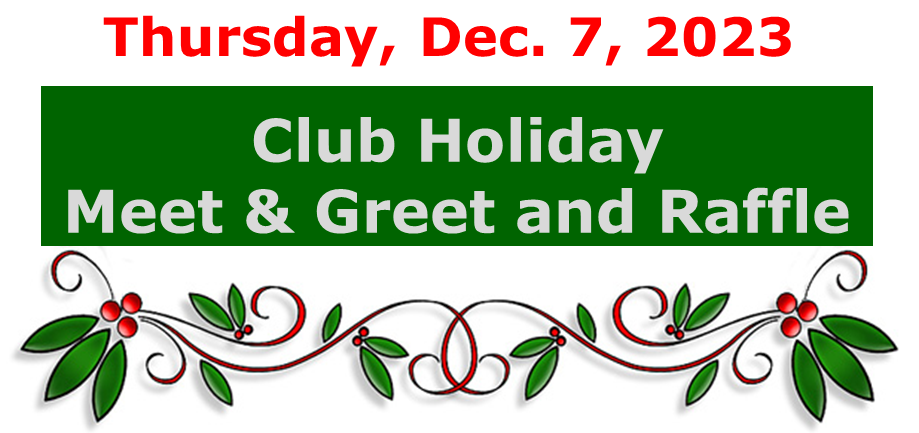 We will gather at 7:00 p.m. on Thursday, December 7, 2023 with announcements, conversation, and refreshments. This annual holiday event is open to club members and the public; please join us. There will also be a number of raffle items to purchase tickets for. Find out more about this holiday social…
LOCATION: UNC-Asheville Reuter Center, Manheimer Room on the bottom floor.
Learn how you can help make this event a success with the donation of some food or other refreshments at this link.

Illustration courtesy of
SKY & TELESCOPE

Illustration courtesy of
SKY & TELESCOPE