17 – 24 Sept. 2019 –

Some Bright International Space Station Flyovers Visible in our Region
Find out more…

Two Star Gazes in September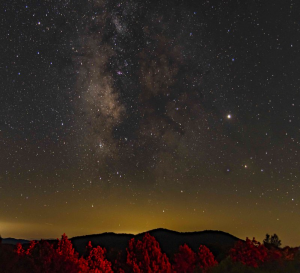 Continue to check this home page as weather could change the venue or postpone and possibly cancel a star gaze. Check-in again after 5:00 p.m. on the afternoon of the observing session for the latest info and update. (image courtesy of Alan Davis, taken from Grassland Mountain Observatory)
20 September 2019

 – Friday night – The location for this star gaze will be 
Lookout Observatory
on the UNC Asheville campus, with a weather backup night of
Saturday, 21 September. While the event is free and open to the general public, pre-registration is required to attend. To learn more about how to register, please visit the UNCA Lookout Observatory website
here
. 
Sunset occurs at 7:30 p.m., with shuttle service beginning at 8:00 p.m.

27 September 2019 –

Friday night
 – This public star gaze will be held at
Grassland Mountain Observatory
 i
n Madison County, with a weather backup night of
Saturday, 28 September. This event is free and open to the general public — registration is not necessary to attend. A temporary gate code, required for entry, will be provided on the day of the star gaze by 5:00 p.m. Directions to Grassland Mountain Observatory can be found
here
.
Sunset occurs at 7:20 p.m.

3 October 2019

 – Next Club Meeting
Thursday night, 7:00 – 9:00 p.m. – In the Reuter Center's Manheimer Room, located on the UNC Asheville campus. The meeting is free and open to the general public.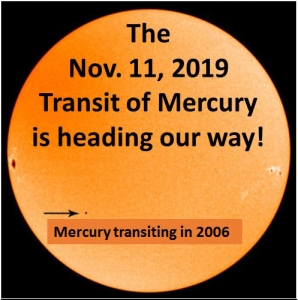 November 11, 2019's Transit of Mercury – presented by Bernard Arghiere, Astronomy Club of Asheville
Of the Solar System's five naked-eye planets that have been observed since the origins of humankind, Mercury is the most elusive to spot.  It never rises more than 22° above the horizon at dusk or dawn, and, unlike Venus, Mars, Jupiter, and Saturn, most folks have never wittingly observed Mercury!  But on November 11, 2019, Mercury will transit across the disk of the Sun, providing a great opportunity to view it easily during daylight with a safely, filtered telescope.
Mercury transits are rare events.  Mr. Arghiere will explain how, when and why planetary transits occur, as well as a brief history of Mercury transit observations, dating back to the year 1631, only 22 years after Galileo pointed a telescope for the first time toward the heavens above.  Read more…