1 August 2019

 – Next Club Meeting
An Astronomy Guest Speaker Series Event – a collaboration of the Astronomy Club of Asheville and UNC-Asheville
Thursday night, 7:00 – 9:00 p.m. – In the Reuter Center's Manheimer Room, located on the UNC Asheville campus. The meeting is free and open to the general public.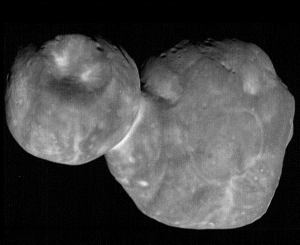 "Beyond Pluto: the New Horizons Mission to Ultima Thule" – presented by Steven J. Conard, Johns Hopkins Applied Physics Laboratory
When NASA's New Horizons spacecraft sped past Pluto in July 2015, offering unprecedented (and unexpected) views of the strange dwarf planet, its mission was considered an unparalleled success. As the spacecraft continued into the far reaches of our solar system, scientists were cautiously hopeful that the mission could be extended to explore an object in the Kuiper Belt, the distant region located one billion miles past Neptune's orbit that contains comets, asteroids and other small icy bodies.
The mission's new target did not disappoint; on New Year's Day 2019, 13 years after the spacecraft's launch, New Horizons had its closest encounter with Kuiper Belt Object 2014MU69, nicknamed "Ultima Thule", the most distant – and quite possibly the oddest – object ever explored. This 22-mile, peanut-shaped asteroid gives scientists a primordial glimpse into the earliest formation of our solar system.
Steve Conard will discuss the New Horizon mission's efforts to find Ultima Thule and how scientists characterized the object prior to the encounter. He'll then examine the preparations for the flyby, and how data collected by the spacecraft's Long Range Reconnaissance Imaging (LORRI) instrument can unlock the mysteries of our solar system's beginnings.