Image courtesy of Sky & Telescope

Image courtesy of Sky & Telescope

Next Club Star Gaze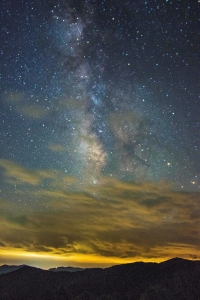 Continue to check this home page posting as weather and road conditions could change the venue or postpone and possibly cancel a star gaze. Check-in again after 5:00 p.m. on the afternoon of the observing session for the latest info and update. (Image credit: Joy Marie De Block, taken at Grassland Mountain Observatory)
28 October 2016 – Friday night – The location for this star gaze will be Grassland Mountain Observatory in Madison County, with a weather backup night of Saturday, October 29th.  The event is free and open to the general public — registration is not necessary to attend.  A temporary gate code, required for entry, will be posted on this website at approximately 5:00 p.m. on the day of the star gaze.  Directions to Grassland Mountain Observatory can be found here.  Sunset occurs at 6:32 p.m.

Image courtesy of Sky & Telescope

3 November 2016

– Next Club Meeting
Thursday night, 7:00 – 9:00 p.m. – In the Manheimer Room at the lower level of the Reuter Center on the UNC Asheville campus. This meeting is free and open to the general public.
"The Day Without Yesterday: Cosmology and the Big Bang"  — Presented by Stephen Danford, University of North Carolina Greensboro
In the 20th century astronomers discovered more about how our universe began and about the nature of time and space than in any other epoch in human history. This amazing growth in our knowledge of the overall structure of our universe is unlikely to abate in the 21st century.
We will discuss the four great discoveries of cosmology that have formed our picture of how time and space began.  How did we learn that the universe began in a Big Bang?  What are the consequences of this view of cosmology?