Illustration courtesy of Sky & Telescope

Illustration courtesy of Sky & Telescope


2 August 2018

 – Next Club Meeting
Thursday night, 7:00 – 9:00 p.m. – In the Manheimer Room at the lower level of the Reuter Center on the UNC Asheville campus. This meeting is free and open to the general public.
"The Dark Side of the Universe: Dark Matter in the Galaxy and Cosmos" presented by Shane L. Larson, CIERA, Northwestern University
The Cosmos abounds with matter that emits copious amounts of light, both in the spectrum of visible colors we perceive with our eyes as well as in invisible light, such as x-rays and radio waves.
But in the last 50 years astronomers have discovered that a significant part of the Universe is filled with matter that doesn't emit ANY light at all.  In the last ten years, we have discovered an even more mysterious material that appears to be driving changes in the scale of the Universe. Read more…

Two Star Gazes in August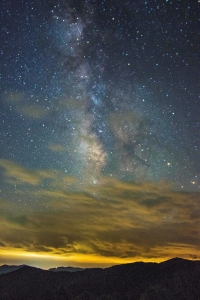 Continue to check this home page as weather and road conditions could change the venue or postpone and possibly cancel a star gaze. Check-in again after 5:00 p.m. on the afternoon of the observing session for the latest info and update. (image credit: Joy Marie de Block, taken at Grassland Mountain Observatory)
3 August 2018 – Friday night – The location for this star gaze will be Lookout Observatory on the UNC Asheville campus. The weather backup night is Saturday, August 4th. While the event is free and open to the general public, pre-registration is required to attend. To learn more about how to register, please visit the UNCA Lookout Observatory website. Sunset occurs at 8:32 p.m., with shuttle service beginning at 9:00.
10 August July 2018 – Friday night – The location for the star gaze will be Grassland Mountain Observatory in Madison County. This observing event is one night only and there is no weather backup date. The star gaze is free and open to the general public — registration is not necessary to attend.  A temporary gate code, required for entry, will be posted on this club website home page by 5:00 p.m. on the day of the star gaze.  Directions to Grassland Mountain Observatory can be found here.  Sunset occurs at 8:25 p.m.