28 February 2018

 – Next Meeting
An Astronomy Guest Speaker Series Event – a collaboration of the Astronomy Club of Asheville and UNC Asheville
Please note

: Due to a scheduling conflict with the UNC Asheville Department of Mathematics Parsons Lecture featuring NASA aeronautical engineer and mathematician Christine Darden, the Astronomy Club of Asheville meeting has been moved to Wednesday, February 28th at 7:00 p.m.

instead of our normal first-Thursday-of-the-month date.
Wednesday night, 7:00 – 9:00 p.m. – In the Manheimer Room at the lower level of the Reuter Center on the UNC Asheville campus. This meeting is free and open to the general public.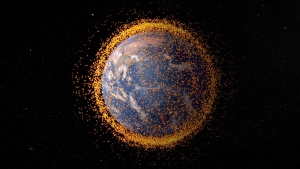 "The Kessler Syndrome: A Problem Created by Natural Law, Solved only with Human Intervention" – Presented by Donald J. Kessler, astrophysicist and retired NASA scientist
Today's orderly solar system is the result of a 4.6 billion year chaotic process that formed the major planets orbiting our Sun. In some parts of our solar system, however, this chaotic process continues – the asteroid belt and comets generate natural debris in the form of meteoroids that have none of the orbital characteristics of the major planets. While larger asteroid fragments can become a hazard to life on Earth, smaller fragments represent a hazard to spacecraft.
In 1978, NASA scientist Don Kessler used models to understand the natural meteoroid environment and predicted that by the year 2000, collisions between spacecraft in Earth orbit would produce a population of small debris that exceeded the natural meteoroid hazard for satellites in Earth orbit. The cascading effect of these space debris collisions would continue to increase, even if we stopped adding to the debris field. In 1982, the news media began referring to these predictions as the "Kessler Syndrome." The 2013 movie Gravity used this concept of cascading debris collisions to dramatic effect.
Therefore planet Earth has a growing problem: too much space debris in low Earth orbit (LEO).  As of 2014, there were about 2,000 commercial and government satellites orbiting the earth. It is estimated that there are 600,000 pieces of space junk ranging from 1 cm to 10 cm, and on average one satellite is destroyed each year.
Over the past 40 years, as our infrastructure has become increasingly dependent on safe space operations, the need for changes has increased. While there has been significant progress, much more is needed. Although there is international recognition of the problem, models predict that we have reached a tipping point, such that at least 500 of the largest debris objects must be removed from low Earth orbit in order to stabilize the growing debris environment. Both the European Space Agency and Japan Aerospace Exploration Agency are planning to test concepts for removing debris from Earth orbit.  However, to be successful, such an endeavor to fully stabilize the current debris environment will require the cooperation of all space agencies.
Publications and background information can be found at Don Kessler's webpage:  http://webpages.charter.net/dkessler/